Five Steps to Maintaining Hope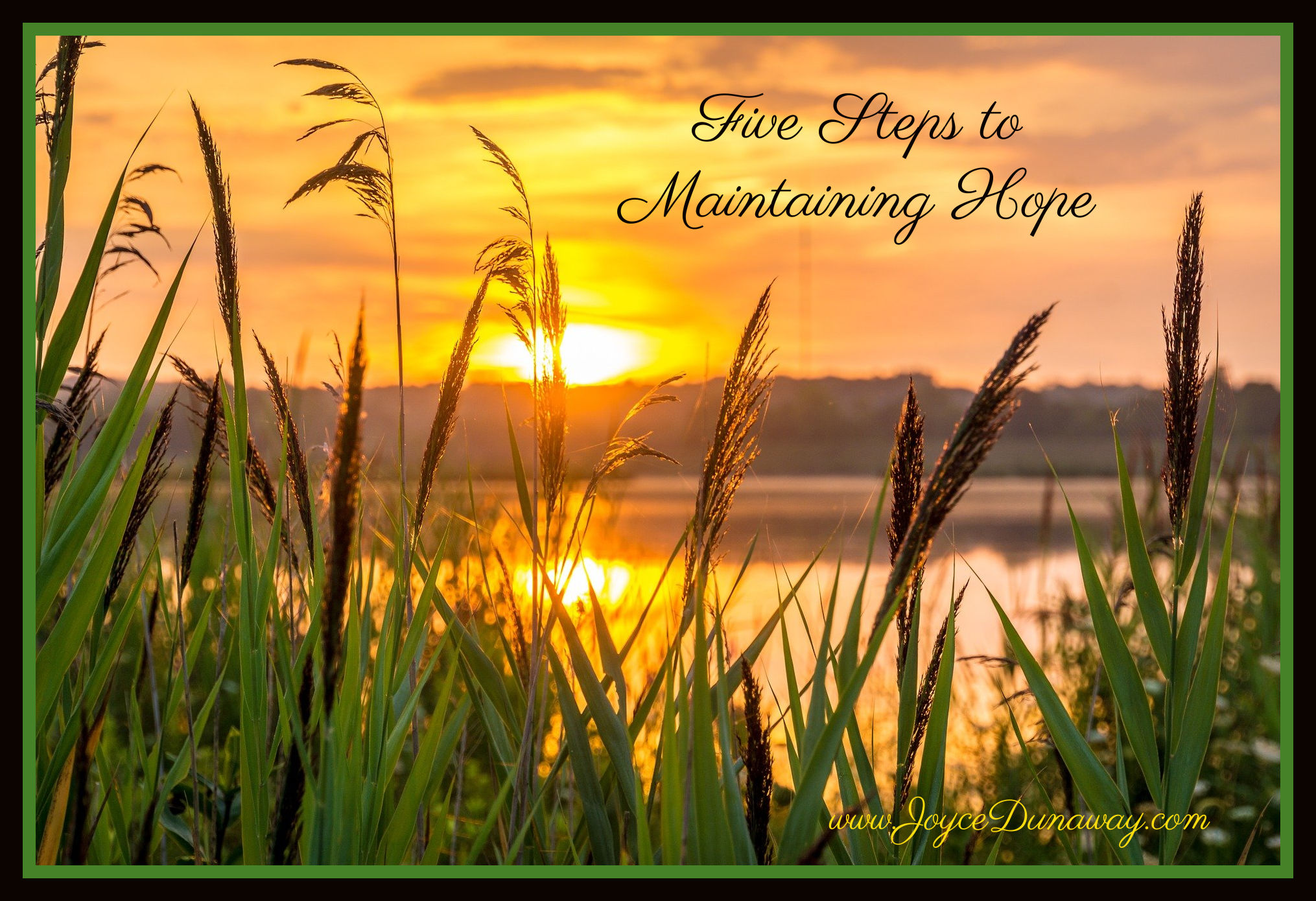 by Joyce Dunaway @DunawayJoyce
We often start off in life with grandiose dreams—things we hope to accomplish. We hope to go to college, get a good job, find a soul mate, have children, and be successful.
But in reality, many of these hopes never come to fruition. Sometimes the circumstances of our lives buffet us down to a point where we've lost all hope of things getting better, leading us to discouragement.
So where do we look when our hopes and dreams have been shattered? To the source of hope—God. May the God of hope fill you with all joy and peace as you trust in him, so that you may overflow with hope by the power of the Holy Spirit (Romans 15:13 NIV).
Following are five steps to maintaining hope:
TRUST GOD
No matter how much we trust other people in our lives, they often disappoint us. But our trust in God will never fail us. Blessed is the man who trusts in the Lord, And whose hope is the Lord (Jeremiah 17:7 NKJV). For You are my hope, O Lord God; You are my trust from my youth (Psalm 71:5 NKJV).
CHOOSE HIS PRIORITIES
Sometimes we get so busy we don't spend time with God. Prayer and Bible study are often something we do if we have time. By setting aside specific time for fellowship with God, we are better equipped for the ups and downs of our earthly journey. Seek first the kingdom of God and His righteousness (Matthew 6:33 NKJV).
WORSHIP GOD
By worshiping God, either in private or with others, we realize our problems are small compared to his majesty and glory and that we can depend on Him to help us find hope no matter our circumstances.
I will praise You, O Lord, with my whole heart (Psalm 9:1 NKJV). Enter his gates with thanksgiving and his courts with praise; give thanks to him and praise his name (Psalm 100:4 NIV).
DEVELOP AN OPTIMISTIC OUTLOOK
Everywhere we look there are problems—around the world, in our country, and in our personal lives. By dwelling on them we could lose hope. However, by looking for good in every situation, we can maintain an optimistic outlook on life. We know that all things work together for good to those who love God (Romans 8:28 NKJV). This doesn't mean we'll only have good things happen to us, but we can be assured God is with us and will help us find positive things no matter what is happening.
ANTICIPATE ETERNITY WITH GOD
While we are working at or earthly responsibilities, we can still look forward to spending eternity with the God who created us. We are looking for the blessed hope and glorious appearing of our great God and Savior Jesus Christ (Titus 2:13 NKJV). "In my Father's house are many mansions. I go to prepare a place for you. And if I go to prepare a place for you, I will come again and receive you to Myself; that where I am, there you may be also." (John 14:2-3 NKJV).
How amazing it will be to be in God's presence forever and no longer have to deal with the problems of this world."God will wipe away every tear from their eyes; there shall be no more death, nor sorrow, nor crying. There shall be no more pain, for the former things have passed away." (Revelation 21:4 NKJV).
I would love to hear how you maintain hope when your life is upside down. Please share your thoughts in the section below.