How the Wise Use of Time Can Help You Achieve Your Dreams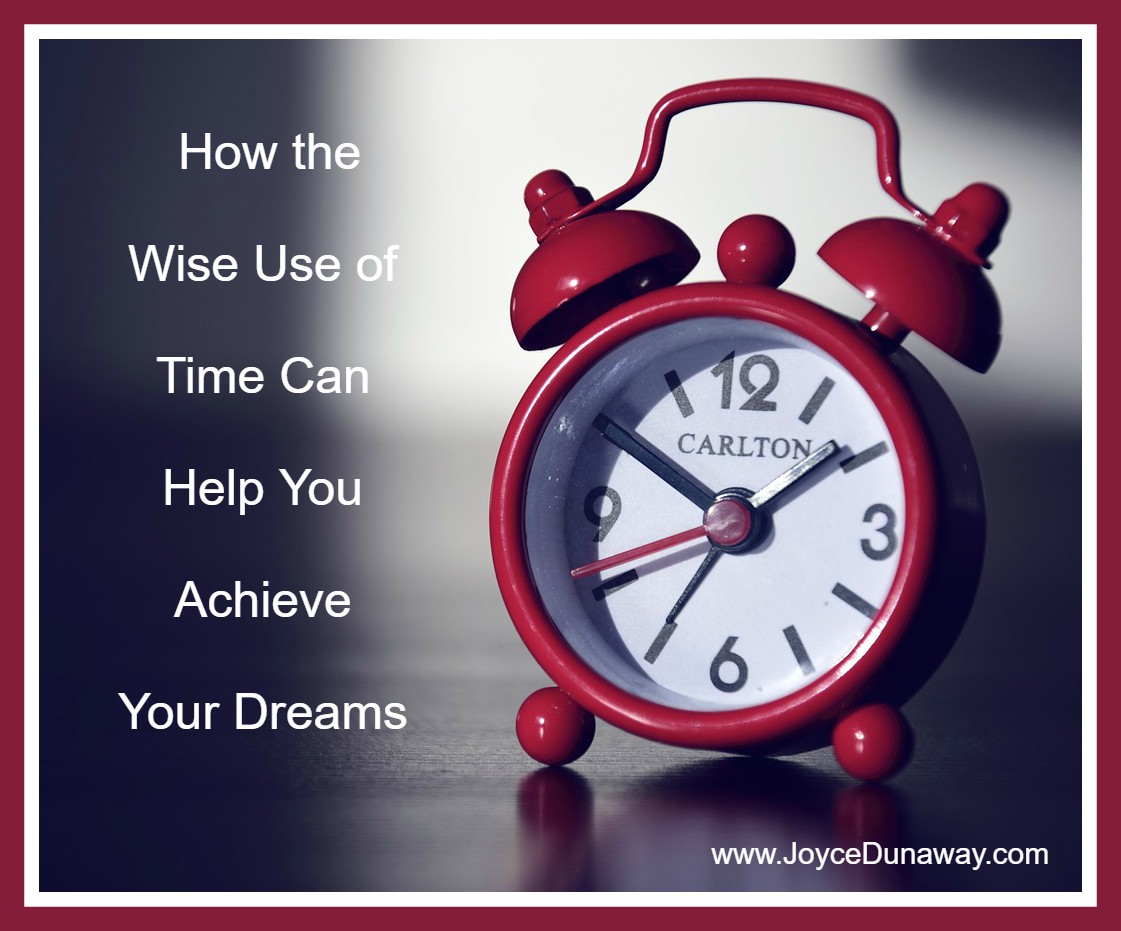 by Joyce Dunaway @DunawayJoyce
We're always in a hurry. There's just not enough time to get everything accomplished. We live in a society that wants fast everything—fast food, fast internet, and fast answers to prayers. We become impatient when the fast food drive-through line is slow.
Every human being is allotted the same amount of time—24 hours a day—168 hours a week. Why doesn't God allow more? He knows we need rest and rejuvenation.
Only God knows how many days, weeks, and years we will reside on earth. "Your eyes saw my unformed body; all the days ordained for me were written in your book before one of them came to be." (Psalm 139:16)
Following are some tips that will help you use time wisely in the pursuit of your dreams:
STEWARDSHIP
When we think of this word in relation to God, we usually think of tithe and offerings. We are commanded in Malachi 3:10 to "Bring all the tithes into the storehouse." A tithe is one tenth of our possessions. What about the stewardship of our time? A tenth of 24 hours is 2 hours and 40 minutes. If we spent this much time daily with God, we would have a peace about the remainder of the day. This time could include praying, reading and studying God's Word, or worshiping Him.
PRIORITIES
Who are the most important people in your life? Deciding how much time you spend with them might necessitate reducing time spent with other acquaintances.
SCHEDULES
Almost everyone has a calendar to consult when making appointments for doctor visits, hair and nail appointments, church responsibilities, children's sports activities and play dates for children. Working moms have the added stress of fitting all these into an already full day.
In frustration, we often put our dream on the back burner. We decide we'll have more time when the children are in school or when they graduate. An ideal time seems so far in the future—which often results in delayed achievement or not ever accomplishing that dream.
ASSISTANCE
Delegating chores to others will allow us more time to work on our project. Children and spouses can be taught to clean, do laundry, grocery shop, and cook. Older teens could take the younger kids to sports practices and games. You could select special activities to attend because it's not necessary to be there every minute. Your child will be excited to tell you what happened when he gets home. Explaining to your family and friends what accomplishing your dream means to you, they will be glad to help.
I would love to hear how any of these tips or others you have implemented have helped you achieve your dreams. Please share your thoughts in the section below.