How to Be Thankful In Every Situation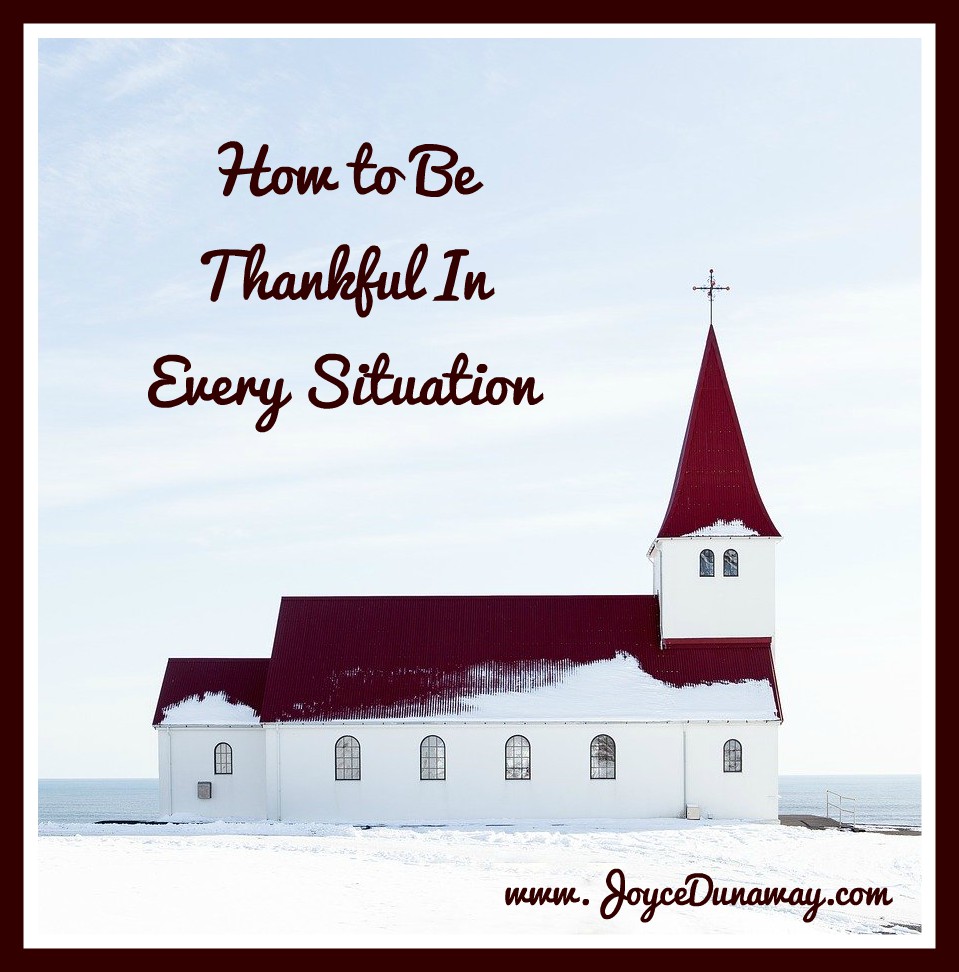 by Joyce Dunaway @DunawayJoyce
Give thanks in all circumstances; for this is God's will for you in Christ Jesus (I Thessalonians 5:18).
Even when you receive a cancer diagnosis? Even when your spouse wants a divorce? Even when your child is arrested for dealing drugs? Even when your best friend spreads lies about you on Social Media? Even when your baby or child dies?
Yes. In all circumstances. This doesn't mean you are glad these bad things are happening to you. It means you can find joy despite the problems.
This is humanly impossible. We have to rely on God and His promises.
Following are some of God's promises that will enable you to be thankful in all circumstances:
HIS PEACE
When devastating news makes you anxious and concerned about your future, you can turn to God and receive His peace. Peace I leave with you; my peace I give you (John 14:27). Be anxious for nothing, but in everything by prayer and supplication, with thanksgiving, let your requests be made known to God; and the peace of God which surpasses all understanding, will guard your hearts and minds through Christ Jesus (Philippians 4:6-7).
HIS PRESENCE
Sometimes God allows tragedies so we will draw closer to Him. He has promised to never leave us or forsake us. The Lord himself goes before you and will be with you; he will never leave you nor forsake you. Do not be afraid; do not be discouraged (Deuteronomy 31:8).
HIS PROVISION
Whether we need physical, mental, or spiritual strength during our crisis, God will provide what we need when we need it. My God shall supply all your need according to his riches in glory by Christ Jesus (Philippians 4:19).
HIS POWER
When you feel you can't face another painful day, lean on God and allow Him to give you the strength of mind and body to continue. The Lord gives strength to his people (Psalm 29:11).
I would love to hear how these promises or others have helped you when tragedy strikes. Please share your comments in the section below.