How to Stay Focused on the Pursuit of Your Dreams Despite Distractions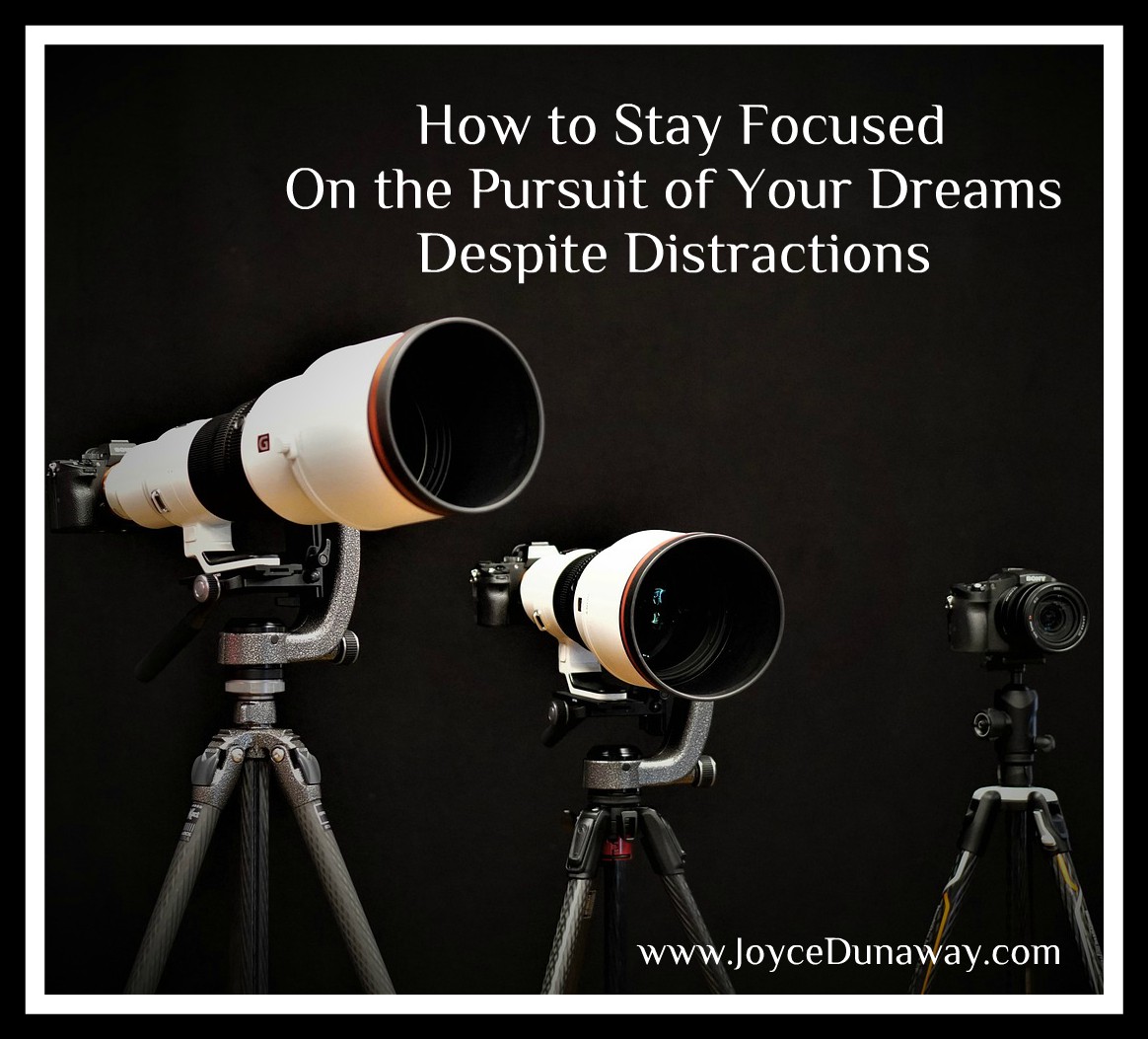 by Joyce Dunaway @DunawayJoyce
If you've been forced to stay home during this pandemic, you probably have more distractions during your writing time—especially if your children are home from school.
It would be easier to give in and not try to work on the pursuit of your dreams. However, continuing the journey, even if you can't accomplish as much as usual, is important to help you stay on track.
Following are some suggestions that might help you stay focused on the pursuit of your dreams despite distractions:
PROTECT YOUR TIME
Even though your schedule has been altered, look for new alternatives for specific writing time—get up earlier; stay up later; work while the rest of the family is watching TV; or reduce social media interaction.
ENLIST THE HELP OF OTHERS
If your children are young, perhaps one of their favorite movies would keep them entertained allowing you to concentrate on your project. If your children's' ages are mixed, the older ones could be assigned to watch the younger ones while you work. If you're married and your spouse is home, he might be willing to take the kids outside for physical activity so you can focus.
LET GO
Give yourself permission to work on your dream instead of trying to keep a perfect house and spend long hours preparing food. Perhaps you could save some household chores for the weekend and everyone can chip in to help. Make a game out of it and promise a reward when the job is complete—ice cream or pizza. If your children are old enough, you could teach them to cook. It might take extra time at first, but the effort will be worth the results. Despite the crisis, many local restaurants will deliver meals.
SET UP A DISTRACTION-FREE ZONE
If you already have an office, you might need to close the door and instruct everyone not to disturb you for a specific amount of time unless there is an emergency. If you don't have an office, search for some area of your home or outside where you can work without interruptions.
SET GOALS
Even if you can't spend as much time as usual on the pursuit of your dream during this quarantine stage, set attainable goals. If you can only write 500 words a day instead of your usual number, consider that an accomplishment. At least you're moving forward. Perhaps your social media time could be achieved during TV commercials.
REMEMBER WHY YOU'RE PURSUING YOUR DREAM
If God has embedded this dream in your heart, He will give you the desire and time to pursue it even in the midst of a storm. He doesn't want you to neglect your family, but yet He expects you to find innovative ways to continue the pursuit.
I would love to hear other suggestions of how you are focusing on the pursuit of your dreams despite distractions. Please share your thoughts in the section below.