Five Blessings of Following God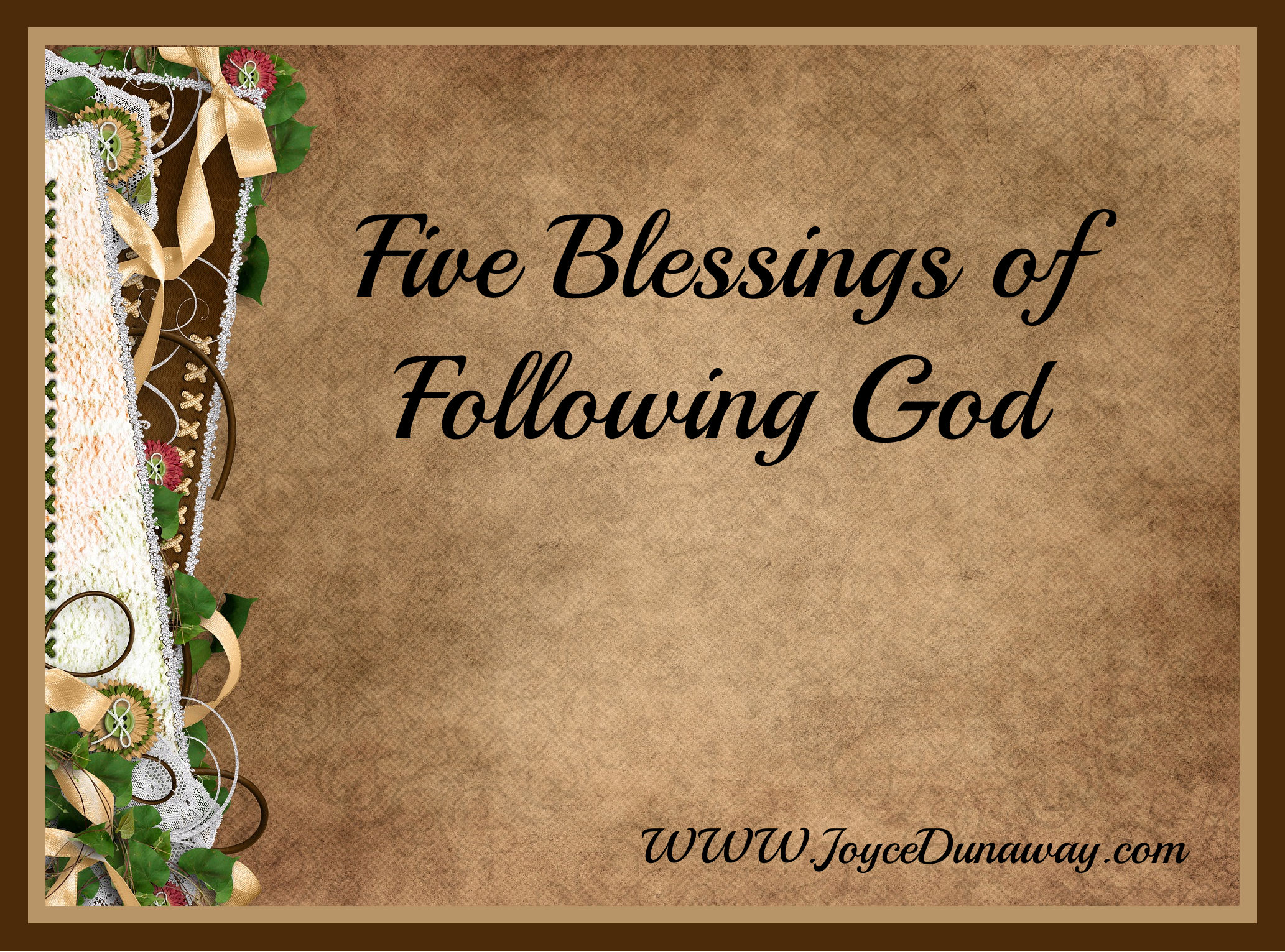 by Joyce Dunaway @DunawayJoyce
Jabez called on the God of Israel saying, "Oh, that You would bless me indeed, and enlarge my territory, that Your hand would be with me, and that You would keep me from evil, that I may not cause pain!" So God granted him what he requested (I Chronicles 4:10 NKJV).
As children we are taught to say a blessing before meals. Basically, we're thanking God for the food He has provided. Have you thought about the fact that God desires to bless us? He has bestowed blessings on His creation since the beginning of time. God created man in His own image; in the image of God He created him; male and female He created them. Then God blessed them (Genesis 1:27-28 NKJV).
As a child of God, He promises to bless us. The Lord richly blesses all who call on him (Romans 10:12 NIV).
Following are five blessings of following God:
PEACE
In today's environment, we see chaos and dissension everywhere. How do we find peace in the midst of all this? We look to the source of true peace. The Lord blesses his people with peace (Psalm 29:11 NIV). When personal issues press on us, how do we keep from being stressed? Don't worry about anything; instead, pray about everything. Tell God what you need, and thank him for all he has done. Then you will experience God's peace, which exceeds anything we can understand. His peace will guard your hearts and minds as you live in Christ Jesus (Philippians 4:6-7 NLT).
PRESENCE
We sometimes feel lonely despite being surrounded by friends and family. Also, many of us have lost loved ones through death or friends and family have moved and you miss fellowship with them. God promises to never leave us. The Lord himself goes before you and will be with you; he will never leave you nor forsake you. Do not be afraid; do not be discouraged (Deuteronomy 31:8 NIV).
PROVISION
As humans, we want many things—new clothes, cars, fancy houses, jewelry, and fame. As Christians, God promises to supply all our needs—not all our wants. God will supply all your needs according to His riches in glory in Christ Jesus (Philippians 4:19 NASB).
PROTECTION
I often get frustrated when slow traffic impedes my progress. During one such incident, I was fuming at the speed of the vehicle in front of me and there was no opportunity to pass. Further down the road there had been a terrific accident in which at least one person had been killed. God showed me that if I'd gotten ahead of the vehicle in front of me, I might have been involved in the wreck. That taught me a huge lesson about trusting God to protect me. The Lord protects all those who love him (Psalm 145:20 NLT). He will order his angels to protect you wherever you go (Psalm 91:11 NLT).
POWER
When we try to lead a Godly life in our own strength, we fail. God promises us the power we need to live for Him. By his divine power, God has given us everything we need for living a godly life. We have received all of this by coming to know him (2 Peter 1:3 NLT). When we feel we can no longer resist Satan, we need to depend on God's power. You belong to God, my dear children. You have already won a victory because the Spirit who lives in you is greater than the spirit who lives in the world (I John 4:4 NLT).
I would love to hear how these blessings have impacted your life. Please share your thoughts in the section below.