Five Ways to Show Kindness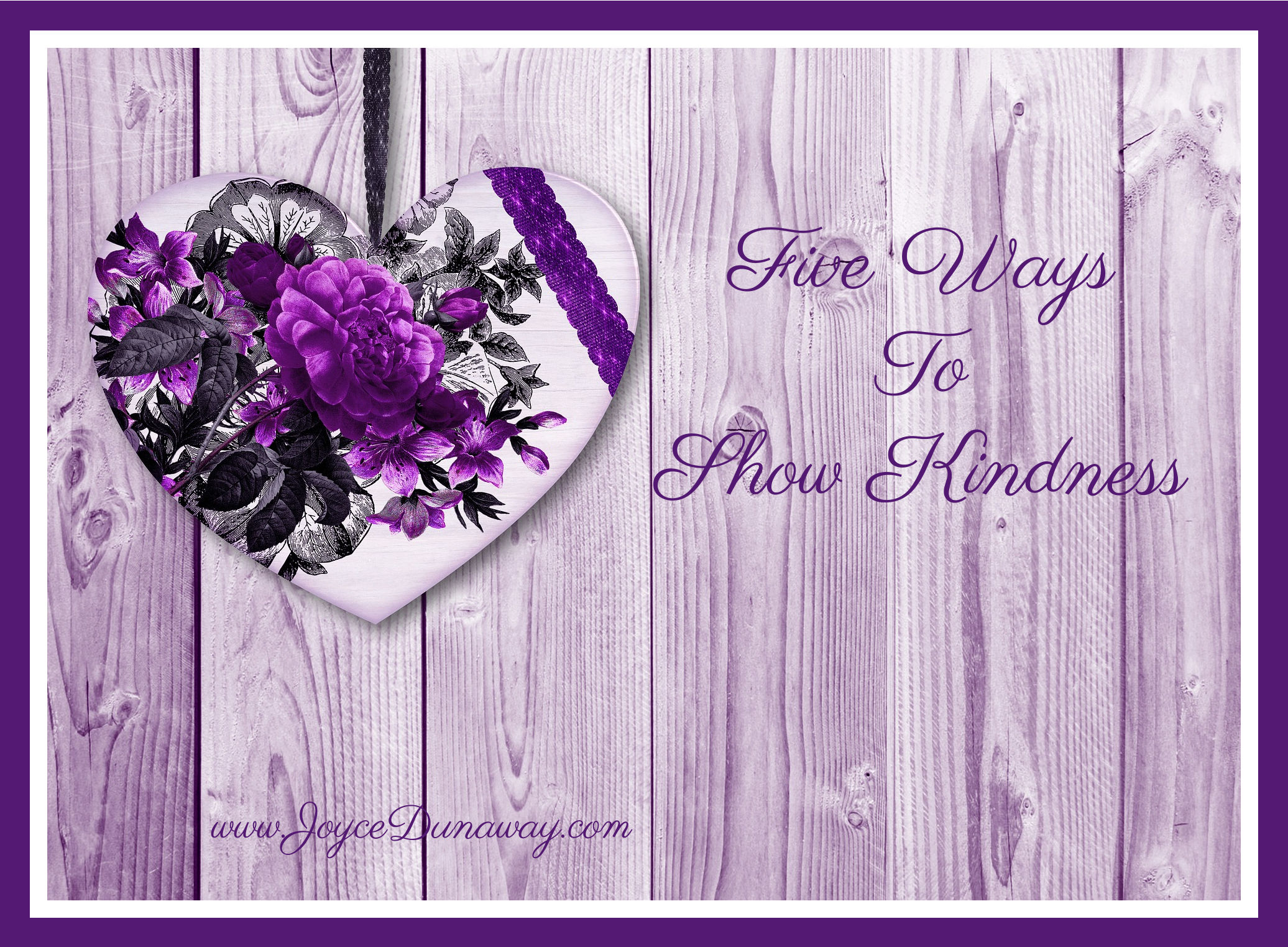 By Joyce Dunaway @DunawayJoyce
Be kind to one another (Ephesians 4:32 ESV).
In today's society rudeness seems to be rampart. Many people don't seem to care about others—striving for their goals and not caring who gets hurt in the process.
Of course, not everyone is like that. People still open doors for each other, allow an elderly person to get in front of them in line, or help someone load groceries into their car.
Kindness is defined as being considerate of others. Sometimes we have to remind ourselves to focus on others instead of ourselves.
Following are five ways to show kindness:
SEND CARDS
Expressing our emotions in an email is okay, but I still cherish getting cards in the mail. This gesture reveals the sender has taken a lot of thought choosing the card and sending it. I also love when they write a personal note. A few days after my birthday, I'll reread the cards I've received and feel the person's love all over again. My older sister sends cards for every occasion: Birthdays, Valentine's Day, Easter, St. Patrick's Day, Halloween, and Christmas. She also sends our special needs child an encouraging card every week. We don't have to do that much, but an occasional card to someone we love will add joy to their lives. Sympathy cards are also appreciated after the death of a loved one. I've still got the cards sent after my mother's death.
MAKE PHONE CALLS
I often plan to call someone to inquire about their health or events in their lives, but time seems to slip away, and I don't make the call. There are many lonely elderly people who'd love to receive a call. Moms with small children would also enjoy an adult conversation.
BESTOW ENCOURAGING WORDS
There's so much negativity in the world, a sincere compliment will uplift the recipient and put a smile on their face. We can always find something good about someone and praising them for that trait makes them feel better about themselves. Our children may feel the pressures of school and need to know they're loved. They might not have math skills but are great at English. Instead of focusing on the negative, letting them know they're proficient at a skill will bolster their ego and make them want to improve.
COOK MEALS
Our Sunday school class fixes meals for members who've been in the hospital. It relieves the family from worrying about meal preparation. When I had breast cancer surgery, I appreciated the gesture because my family had a nutritious meal when I didn't have the energy to prepare food. If you don't have time to cook, a take-out meal would also be welcome.
PROVIDE CHILD CARE
Moms with small children often take turns caring for each other's children so they can participate in an activity they enjoy or just have a few hours of peace and quiet. This break will refresh them so they can be more patient with their children. Offering free babysitting so a couple can spend special time together frees them from the financial burden of paying for a sitter. If you're old enough to be a grandmother, developing relationships with children adds value to their lives. Many children's grandparents live so far away they only get to visit a few times a year. Your presence in these children's lives is a bonus.
I would love to hear how you show kindness. Please share your thoughts in the section below.