Five F's That Can Help You Achieve Your Dreams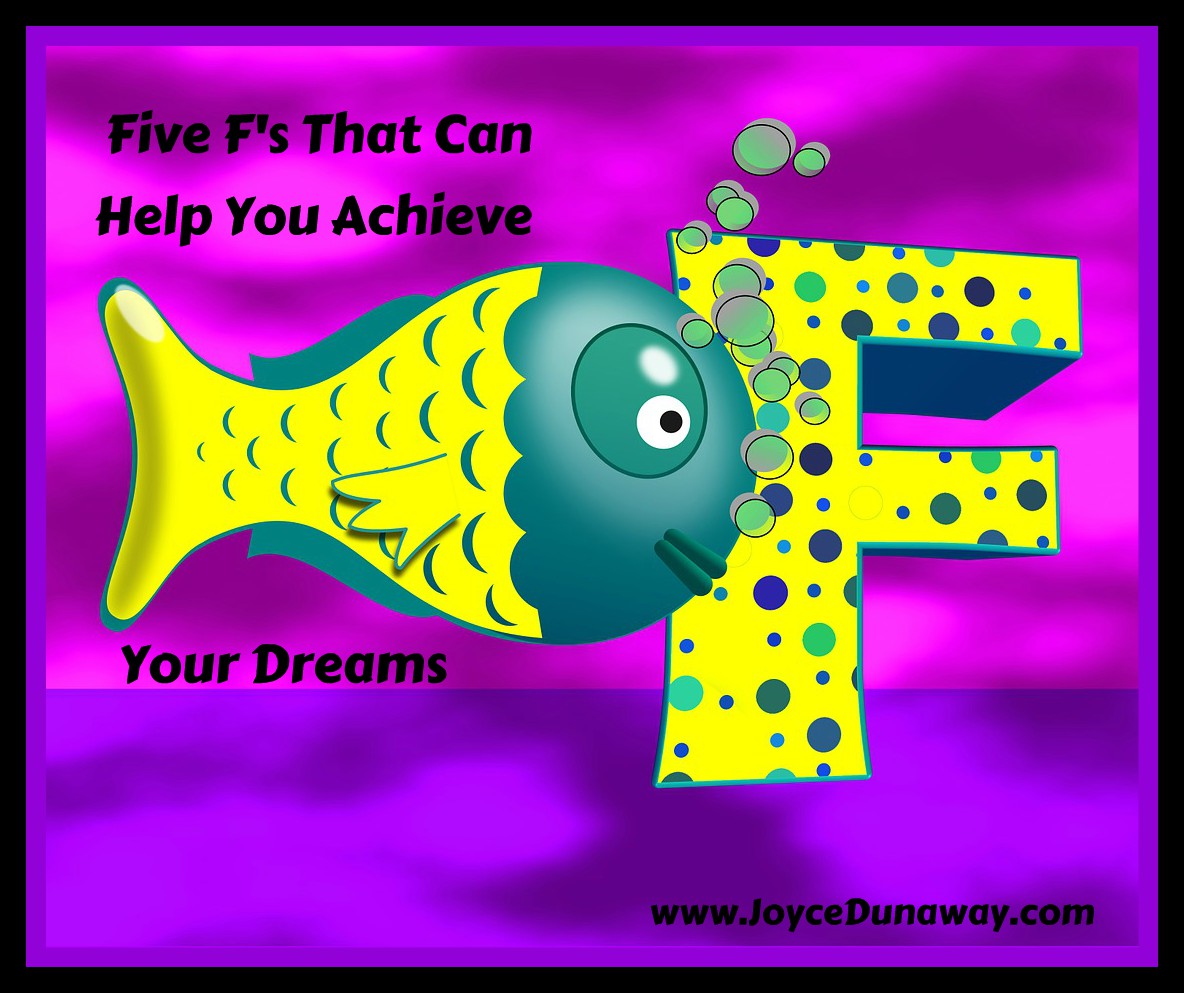 by Joyce Dunaway @DunawayJoyce
Working on your dreams is often difficult—friends and family, who don't take your goals seriously; fear of failure; roadblocks; rejections; discouragement; or financial setbacks. We are often tempted to quit. But moving forward, even if progress is slow, will give us such feelings of accomplishment that we'll forget the problems when the journey is complete.
Following are five F's that can help you achieve your dreams:
FAITH
It's scary to step out in faith. We want assurances that what we're about to attempt will be successful. When Peter stepped out of the boat to walk on the water, he had faith that with the help of Jesus, he would be successful. When he took his eyes off Jesus and focused on the stormy winds, he was afraid and began to sink.
When we are following the dreams God has placed in our heart, it's important to remain focused on Him. By stepping out in faith and depending on Him, He will provide the resources and strength to accomplish our goals.
FELLOWSHIP
Spending time with people who are successful in your area of endeavor will reap many benefits. Most people who have accomplished their dreams are willing to share tips for achievement. Writing is a lonely task, but taking time to learn from published authors will often help eliminate pitfalls along the journey. Spending time with God through prayer and Bible study will guide us in the right direction.
FUN
Achieving dreams takes hard work, but adding some fun into the equation adds joy to the journey. No matter what you're striving to achieve, there will be some aspects you don't enjoy doing. But if you dread the whole process, maybe you need to take time to evaluate if this is your dream or just something you feel you should do. Ask God for verification and a change of attitude.
FERVENT ATTITUDE
Fervent is described as being eager and passionate. Excitement about doing what is necessary to succeed encourages us when things go wrong. Ralph Waldo Emerson says that nothing great was ever achieved without enthusiasm.
FULFILLMENT
I would love to hear how any of these characteristics have helped you on your dream journey. Please share your thoughts in the comment section below.