How to Stand Firm When Satan Attempts to Derail Your Dreams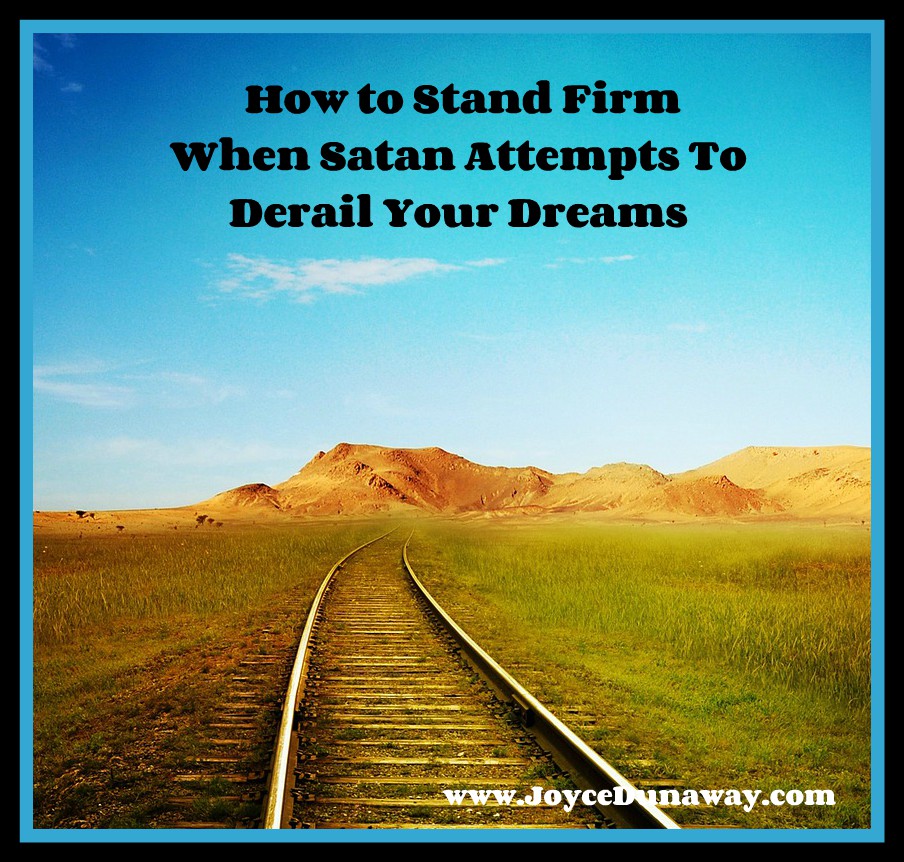 by Joyce Dunaway @DunawayJoyce
Are there days when you feel everyone and everything is against you? I do. Last week Satan attempted to wear me down with an extreme migraine headache. I doubted my decision to attend a writers' retreat. The morning I decided not to go, God gave me a devotion written by Lucinda Secrest McDowell reminding us to look to the mountains and that our help comes from God (Psalm 121:1-2).
One of the places she mentioned was the Blue Ridge Mountains—that is where the retreat is being held. I took that as a sign from God to attend no matter what roadblocks Satan was putting in my path.
Following are some ways to stand firm when Satan attempts to derail your dreams:
PRAY
Jesus told his disciples: "Watch and pray, lest you enter into temptation" (Matthew 26:41). Jesus's lifestyle emphasized the importance of prayer. "He went out to the mountain to pray, and continued all night in prayer to God" (Luke 6:12).
READ GOD'S WORD
Reading and studying God's Word will keep us focused on Him. "Study to shew thyself approved unto God, a workman that needeth not to be ashamed, rightly dividing the work of truth" (2 Timothy 2:15).
MEMORIZE SCRIPTURE VERSES
When we are sick, discouraged, lonely, or sad, God's Word can bring comfort and strength. When I was having radiation for breast cancer, God gave me a verse which I memorized and repeated over and over during my treatments. "The Lord your God is in your midst, the Mighty One, will save; He will rejoice over you with gladness, He will quiet you with His love, He will rejoice over you with singing" (Zephaniah 3:17). There was joy in my heart thinking about God singing over me.
God's Word helps us resist temptation. When Jesus was tempted by Satan in the wilderness, He used scripture to defeat him (Matthew 4:1-11). When Paul described the armor of God, it included the word of God. "Put on the whole armor of God, that you may be able to stand against the wiles of the devil" (Ephesians 6:11-18). "Your word I have hidden in my heart, that I might not sin against You" (Psalm 119:11).
FOCUS ON GOD AND HIS PROMISES
God promises His presence in every circumstance. "The Lord Himself goes before you and will be with you; He will never leave you nor forsake you. Do not be afraid; do not be discouraged" (Deuteronomy 31:8).
No matter the circumstances in our lives, God is always there to help us. "God will meet all your needs according to the riches of His glory in Christ Jesus" (Philippians 4:19). "His divine power has given us everything we need for a godly life through our knowledge of Him who called us by His own glory and goodness. Through these He has given us His very great and precious promises, so that through them you may participate in the divine nature, having escaped the corruption in the world caused by evil desires" (2 Peter 1:3-4).
I would love to hear how you have stood firm when Satan has attempted to derail your dreams. Please share your thoughts in the section below.