How to Discern If Your Dream is God's Calling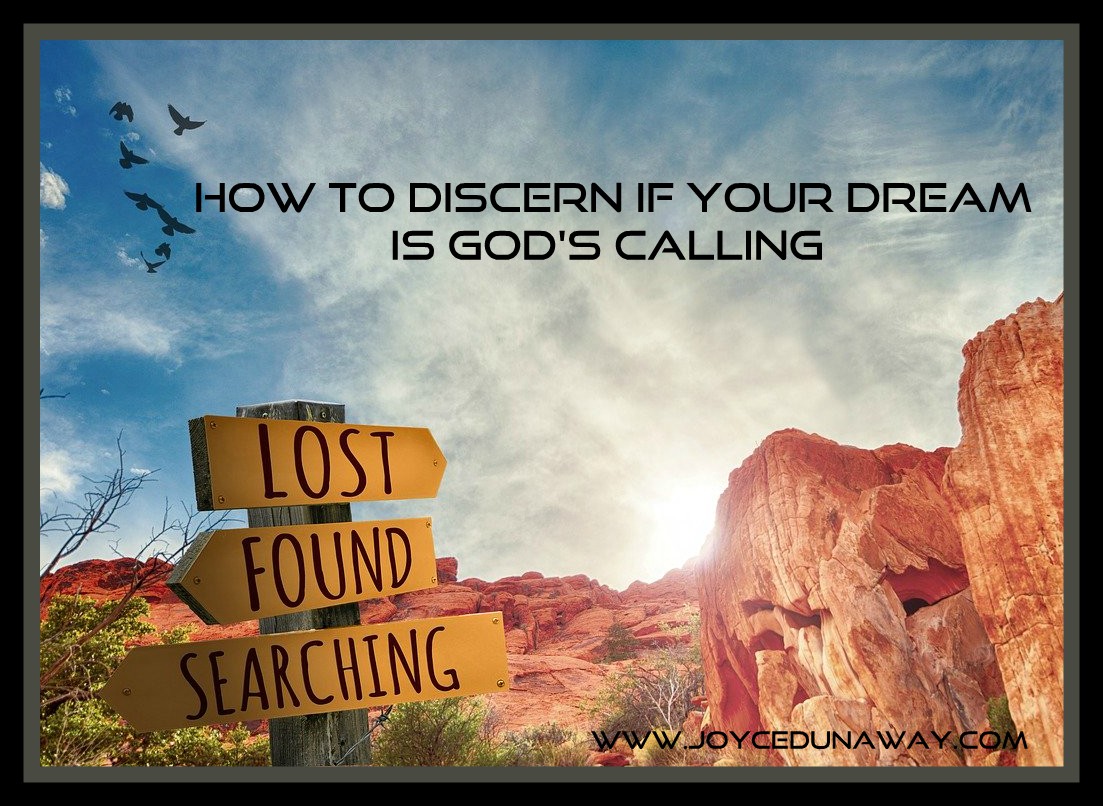 by Joyce Dunaway @DunawayJoyce
Do you ever doubt if what you're doing is God's dream for you? You don't want to spend hours pursuing a journey which is not His calling. Sometimes we question whether we're on the right path. Also, Satan will discourage us to keep us from doing God's will.
Accomplishing a dream takes a lot of hard work. As a writer, rejections, discouragement, doubts about our ability, and waiting for years for our words to be published can drag us down. But if we believe this is our calling, we will continue on the journey.
Don't be impatient for the Lord to act! Keep traveling steadily along his pathway and in due season he will honor you with every blessing (Psalm 37:34 TLB).
Following are some ways to discern if your dream is God's calling:
PRAY
We often pray for God to show us His will for our life, but how much time do we spend listening? Try spending some quiet time with God—just listening. Find a quiet place with no distractions. Even if He doesn't speak to you in those moments, your mind will be peaceful and open to His leading.
READ GOD'S WORD
Sometimes when we're reading the Bible, a verse will seem to jump out at us. It may be a verse we've read numerous times, but this time a new enlightenment will reveal God's character or calling. Sometimes God speaks to us by repeating this verse or theme in other things we read that day. When this happens, I try to decipher what God is trying to say to me.
SEEK GODLY COUNSEL
Consult with a Godly friend who knows your personality. They can often see abilities and gifts in us which we don't see. Their discernment might be God's method of speaking to you.
STEP OUT IN FAITH
By faith Abraham, when he was called to go out into a place which he should after receive for an inheritance, obeyed; and he went out, not knowing whither he went (Hebrews 11:8 KJV). Most of the time God doesn't reveal His entire plan to us at once—only the next step to take. By stepping out in faith, He will work to help us accomplish the dream He has placed in our hearts.
I would love to hear how you have discerned God's calling as you pursue your dreams. Please share your thoughts in the section below.