How to Keep Discouragement from Seeping into Your Heart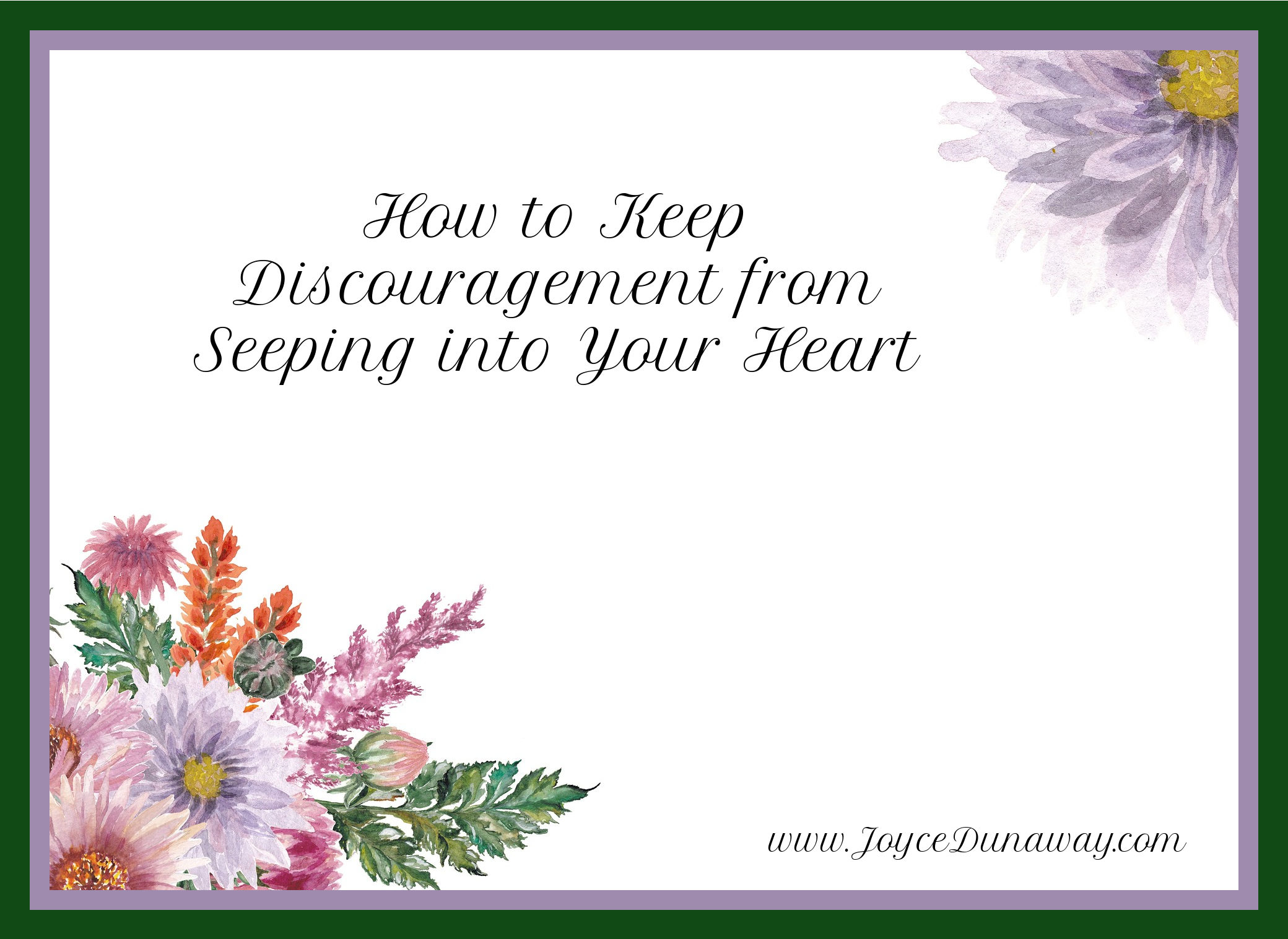 By Joyce Dunaway @DunawayJoyce
What does it take to discourage you? Criticism from a friend, health or financial issues, cancelled vacation plans, rejection letters, children who stray from your advice, or divorce?
Sometimes discouragement is immediate, but it often slowly seeps into our lives after several disappointments. When this happens, we lose our enthusiasm and confidence. We feel like we'll never achieve our dreams.
Following are some ways to keep discouragement from seeping into your heart:
PRACTICE POSITIVE SELF-TALK
Sometimes we say things to ourselves we wouldn't allow others to say. Replace negative thoughts with positive ones. Write affirmations on note cards and place them around your house and in your car. When negative thoughts strive to take over, repeat these positive words and phrases.
USE GOD'S WORD AS AN ENCOURAGEMENT
By repeating God's Word our minds can be refreshed. I can do all things through Christ who strengthens me (Philippians 4:13 NKJV). To all who did receive him, to those who believed in his name, he gave the right to become the children of God (John 1:12 NIV).
ASSOCIATE WITH CONFIDENT PEOPLE
Sometimes friends don't understand our goals and put us down when we don't drop everything to participate in an activity. Our association with positive, successful people inspires us. As a writer, I enjoy talking to and learning from published authors.
LEARN FROM YOUR MISTAKES
When setbacks occur, we have a choice: quit or reevaluate to learn what went wrong. Learning from our mistakes will keep us from repeating them so we can move forward.
TRUST GOD'S TIMING
If you're pursuing a dream God has placed in your heart, trust that He will provide the resources and people you need to accomplish your goal according to His timing. Trust in the Lord with all your heart, and lean not on your own understanding; in all your ways acknowledge Him, and He shall direct your paths (Proverbs 3:5-6 NKJV).
I would love to hear what you do to keep discouragement at bay. Please share your thoughts in the section below.