How to Express Sincere Gratitude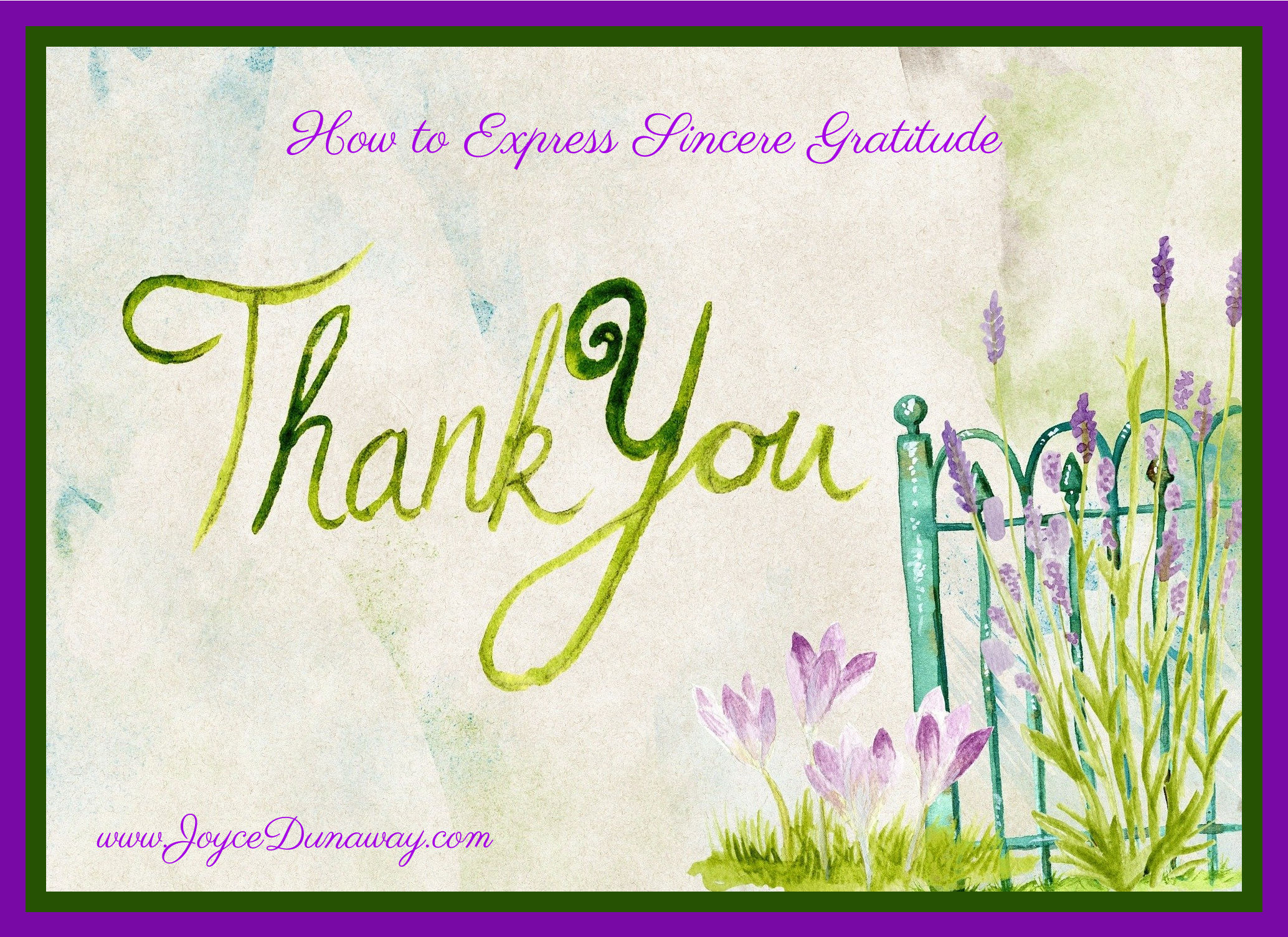 By Joyce Dunaway @DunawayJoyce
Encourage one another and build each other up (I Thessalonians 5:11(NIV).
Saying "Thank You" is an important aspect when working with family, friends, or coworkers on a project. Sometimes we get distracted and forget to express our appreciation.
When someone goes out of their way and does something special for us is a short phrase of thanks enough? Sometimes we express our gratitude in an email or on other social media sights.
Following are some tips on how to express sincere gratitude:
THANK YOU NOTES
If you're like me you enjoy getting a letter or thank you note in snail mail. It thrills me to know someone took the extra time to write an appreciation note. I often save these and reread them later. In today's social media world it's easier and faster to post a thank you instead of taking the extra time to write an old-fashioned note.
GIFTS
When a friend does a lot of favors for us, a small gift would put a smile on her face. It's best to find out what that person would enjoy the most: a devotion book, a meal at her favorite restaurant, a manicure, or flowers. She will relish the gift for days or weeks.
PHONE CALLS
Perhaps your friend would prefer talking to you in person instead of getting a note. There's nothing like communication with people who assist us in our journey. In addition to thanking them, you find out more about them making your friendship stronger.
SWAPPING FAVORS
Sometimes the best thank you we can offer is to reciprocate someone's kindness. For example, a friend might agree to keep your small children while you go to the doctor. Offer to keep hers when she needs to do errands. Helping each other is a great way to express appreciation.
I would love to know how you express sincere gratitude. Please share your thoughts in the section below.