How to Overcome Anxiety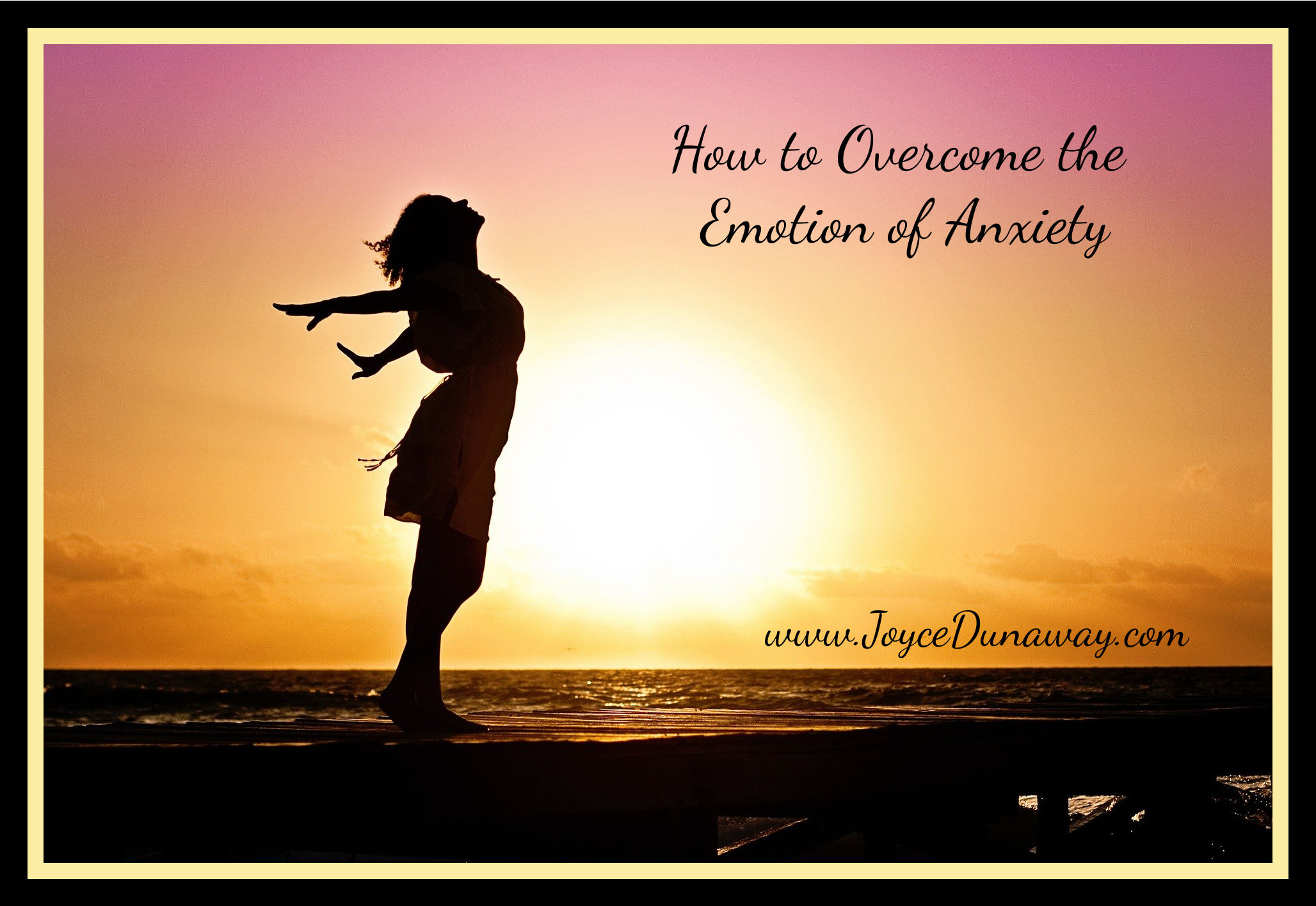 by Joyce Dunaway @DunawayJoyce
Be anxious for nothing, but in everything by prayer and supplication, with thanksgiving, let your requests be made known to God; and the peace of God, which surpasses al understanding, will guard your hearts and minds through Christ Jesus (Philippians 4:6-7 NKJV).
Every day seems to bring more anxieties—job insecurity, health issues, problems with children, broken friendships, marriage issues—just to name a few. What situation or situations in your life bring on anxious thoughts?
The dictionary defines anxiety as apprehension, unease, worry, tension, distress, fear, fretfulness—all negative emotions. The opposite words—calmness, peace, tranquility—all positive emotions—bring us peace.
Since we have a choice at the beginning of the day, which emotion will you choose? I would love to be calm and at peace with myself and God. However, it takes focus and deliberate effort to maintain these positive emotions. Satan is always looking for ways to make us anxious. When we're anxious, we're not feeling God's presence or peace.
Following are some ways we can overcome the emotion of anxiety:
PRAY
Cast all your anxiety on Him, because He cares for you (I Peter 5:7 NIV).
God desires to bear our burdens, but it's sometimes hard to let go. We feel we have to solve all our problems. By praying, we allow God to lead us to solutions which we might not have considered. Be still before the Lord and wait patiently for him; do not fret (Psalm 37:7 NIV).
MAKE LISTS
I love making lists and checking off chores when they're accomplished. It gives me a sense of confidence. Of course I usually have more things on my list than I can finish in one day so I transfer the left-over's to the next day's list. What give me the most peace is to make my list at night before going to bed. That way my mind is clear and not swirling with thoughts about what I need to do tomorrow. Then the next morning I lift the list up to God and ask for his guidance about what are top priorities and ask for strength to do what He has called me to do. Let us run with endurance the race that is set before us, looking unto Jesus, the author and finisher of our faith (Hebrews 12:1-2 NKJV).
SPEND TIME IN NATURE
I feel most at peace when I sit in my backyard in the swing or while sitting on the beach. By marveling at God's handiwork I sense His peace. Even just a few minutes a day can make a huge difference in our thoughts and emotions. The heavens declare the glory of God; the skies proclaim the work of his hands (Psalm 19:1 NIV).
LISTEN TO CHRISTIAN MUSIC
Listening to Christian music while doing chores, riding my exercise bike or driving, prompts me to sing along praising God. Praise and anxiety cannot both reside in our hearts at the same time. Sing to God, sing praises to His name (Psalm 68:4 NKJV).
PREPARE FOR NIGHTTIME REST
If we watch the news before going to bed, thoughts of all the bad things going on in the world will keep us from relaxing. Also, we're advised not to use our computers or cell phones for an hour before lying down. I've found that if I read something relaxing before retiring for the night it helps clear my mind of the daily frustrations. When I lay down and thoughts tend to rob me of good night's rest, I read chapters in the book of Psalms until I can't hold my eyes open any longer. Peace I leave with you; my peace I give you (John 14:27 (NIV).
I would love to hear how these suggestions or others have helped you overcome the emotion of anxiety. Please share your thoughts in the section below.