How Focusing on God's Creation Can Help You Achieve Your Dreams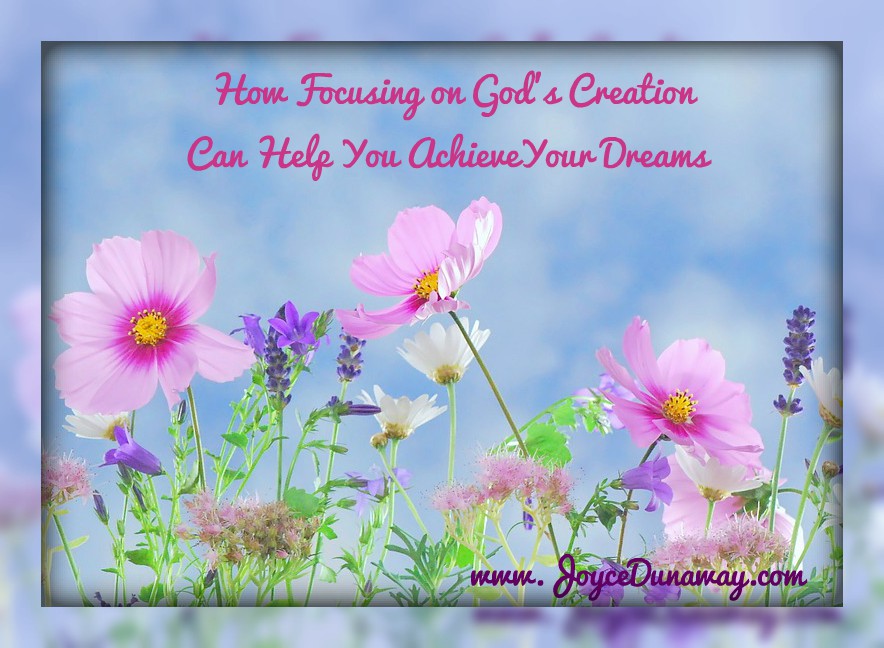 by Joyce Dunaway @DunawayJoyce
The flowers were beautiful; the sunrises were amazing; and the presence of God was astonishing. The Soul Care Retreat was designed to bring attendees a new awareness of God's awesome creation.
We were also encouraged to join God in His creative nature through activities intended to help us use the God-given gifts inside of us. We are creative because we are made in the image and likeness of our Creator.
Following are some ways that focusing on God's creation can help you achieve your dreams:
PHOTOGRAPHY
By taking pictures of flowers, sunrises, trees, rocks, mushrooms and other items in nature, we focused on God as the Creator. "Let us run with endurance the race that is set before us, looking unto Jesus, the author and finisher of our faith." (Hebrews 12:2 NKJV) This activity taught me to look for God in all my surroundings.
VISUAL IMAGES
Bible Journaling is about our response to our Heavenly Father. It encourages us to dwell in His word a little longer. This exercise can include writing or drawing in your Bible. Some people who are not comfortable with marking in their Bible can write or draw their responses to God's word in a separate journal or notebook.
Bullet Journaling is a method of adding art to your calendar of events. Your visual creations can help you organize your activities by year, month, week, and day so you can stay on track and not become overwhelmed with your schedule.
Mixed Media Art can be used to memorialize special moments in our lives. By using a painted canvas as a backdrop and adding items such as stickers, cloth, Washi tape, quotes, and pictures, we created a visual reminder of a specific event. "Joshua called the twelve men whom he had appointed from the children of Israel, one man from every tribe; and Joshua said to them: Cross over before the ark of the Lord your God into the midst of the Jordan, and each one of you take up a stone on his shoulder that this may be a sign among you when your children ask in time to come, saying, What do these stones mean to you? Then you shall answer them that the waters of the Jordan were cut off before the ark of the covenant of the Lord; when it crossed over the Jordan, the waters of the Jordan were cut off. And these stones shall be for a memorial to the children of Israel forever." (Joshua 4: 4-6 NKJV)
WRITING
Composing novels, Bible studies, devotions, and articles are another way to express the creative side of your personality. Writers use words to create a visual image in the reader's mind.
I would love to hear how focusing on God's creation has helped you in the achievement of your dreams. Please share your thoughts in the comment section below.