Inspiration Versus Perspiration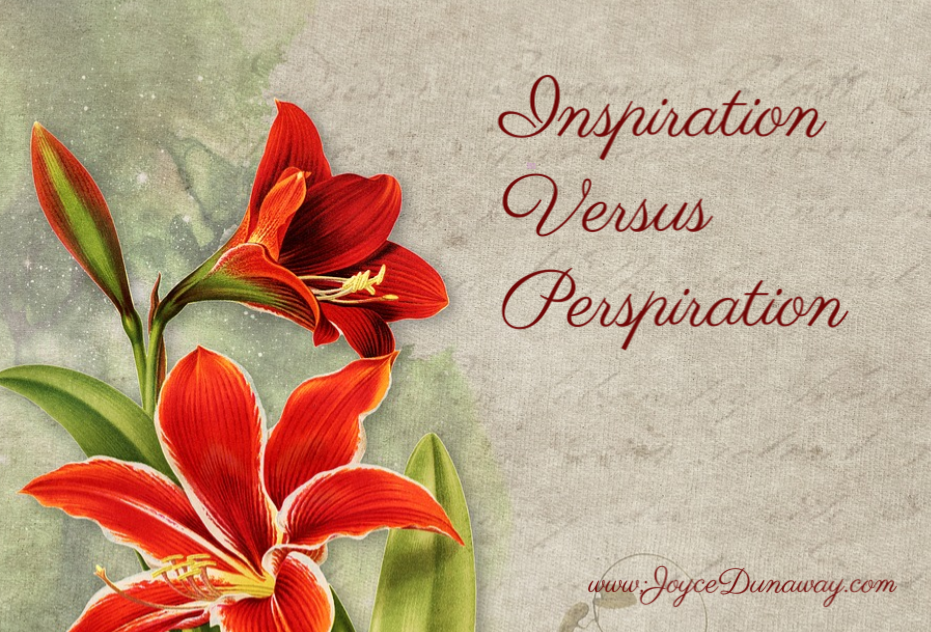 by Joyce Dunaway @DunawayJoyce
Which is the most important characteristic needed for achieving your dreams—inspiration or perspiration?
Inspiration is defined as a sudden brilliant idea. Perspiration often occurs when someone is hard at work—concentrating on a job.
According to Thomas Edison both are necessary for success: "Genius is one per cent inspiration and ninety-nine per cent perspiration".
Sometimes instead of working on our project we say we'll start when we get inspired. Sometimes the inspiration doesn't come until we've started.
Any dream worth achieving takes a lot of hard work—focusing on the job without distractions.
Following are some ways to apply inspiration and perspiration to achieve your dreams:
VISION
Where there is no vision, the people perish. (Proverbs 29:18) As a Christian writer, I feel God has called me to this vocation. When I become discouraged, I focus on His vision for me—the path He is leading me on step by step.
WORK
Let us run with endurance the race that is set before us. (Hebrews 12:1) Some synonyms for endurance are perseverance, determination, tenacity, and strength. To achieve our dreams we need to continue moving forward even if the pace seems slow.
COMMITMENT
Commit your works to the Lord. (Proverbs 16:3) I was always admonished as a child to do your best. If God has placed a dream in your heart, He will give you the strength, resources, and wisdom to achieve your goal.
SURRENDER
When we surrender our work to the Lord, He will use it according to His timetable. When we've completed a proposal, manuscript, Bible study, or devotion, it might help to pause before hitting the send button. Surrender the work to God and allow Him to use it in the way it would benefit the most people.
I would love to hear how these characteristics have helped you achieve your dreams. Please share your thoughts in the section below.